Hello girls!
How's everyone coping lately? Hope everything is going smoothly and well for everyone! Well, school just started for us, hmm we wished the holidays were longer so that we can have more personal time! Oh, Cheeying's room is 90% done, where the balance 10% are bits and pieces! Anyway, enough of chatting, here is our this month's lemming, another quick post, has school has started!
We believed that most of you have already since the hologram released from the US girls who went for the Cosmoproof event at LA! Both of us are hoping that we would be able to enter too, if we happened to be at LA next year around the time when Cosmoproof is held! For those of you who hasnt, hurry visit Polish Galore's site, she has alot of wonderful photos taken at the event! We are so gonna make sure we have a back up set for these holo babies, too holo to own only one of them!
Images taken from
Polish Galore
Another brand that has released their new hologram collection at Cosmoproof! Wow, are you holo fans glad that there are so many pretty holos coming out this season? For those of you who are unable to grab your hands on previous holo collections, this is your chance to own them all! For students like us, we know how much we have to go on a saving mode just to fulfill all these lemmings, danng!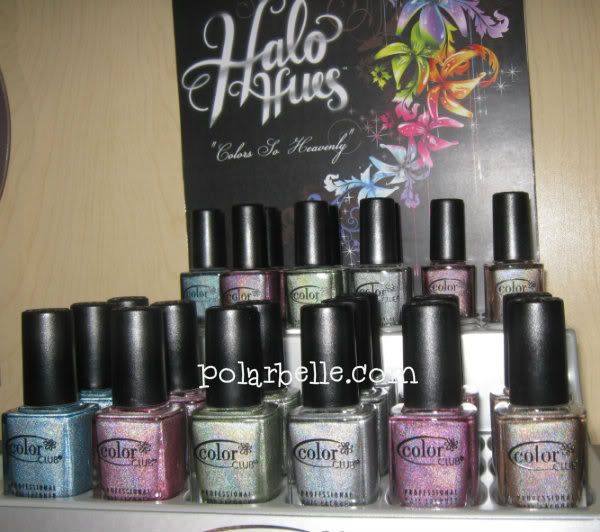 Image Taken from
Polar Belle
The both of us arent really a fan of high end boutique brand nail polish lover, mainly due to the cost of each bottle. But this cute little Chanel polish has not only caught our attention, even Charmy has also said that this is such a beauty! Now we are contemplating on getting this beauty, after scoring our first Dior Polish Saint Tropez! Any comments girls?:)
Image taken from
A Polish Addict
New Illamasqua's rubber neon polishes! The last time we saw it was a Sephora Exclusive in the US but we heard from other sources that they might be available on the Illamasqua's online store in the near future! Hmm, but it is still so much cheaper to grab them from US!
Image taken from
Scrangie
More Jellies from Zoya, Yeah! Cant wait to grab them all! We need more jellies for our jelly sandwich madness!
Zoya Gloss Collection
Zoya Catherine
Zoya Jasmine
Zoya Paloma
Jellies~
Images taken from
Let Them have Polish
More KBshimmer continuing from our previous month's lemming! Yeaps, you are right, our lemmings are from her upcoming new fall collection!
Dont Teal Anyone
Toucan Touch This
Oh Splat
No Whine Left
Images taken from
Colores de Carol
Lime Crime has such a cute collection of Pastel shades! Love their colors and bottles! Just want them all!
Images taken from
FashionPolish

Here is a short and quick post on our August lemming! What's yours?:D